90th Birth anniversary celebration Prof. M.S. Nanjunda Rao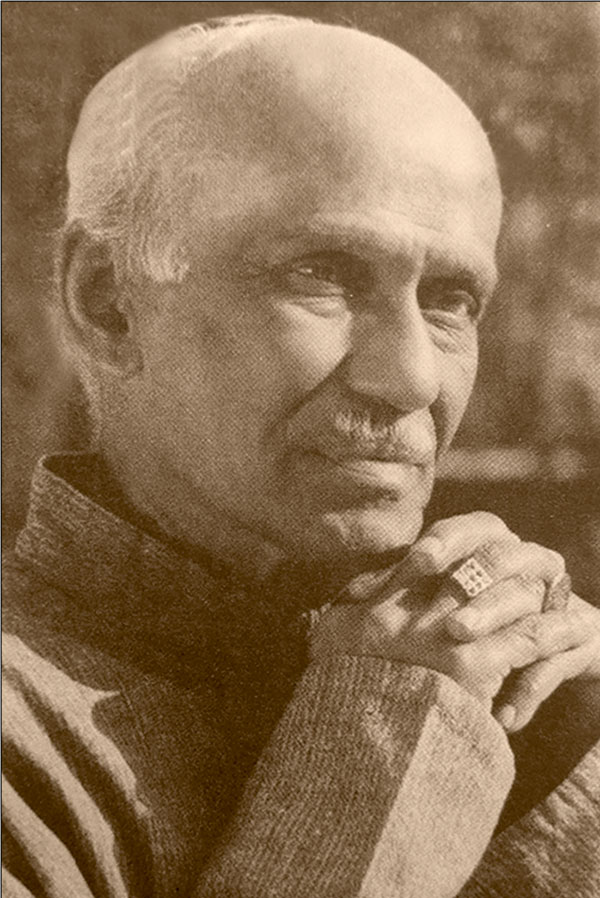 PROF. M.S NANJUNDA RAO 90
A YEAR LONG CELEBRATION
To begin on the 5 TH OF JULY
Continue through 2021-2022
Prof. M.S Nanjunda Rao fondly addressed as 'Meshtru' was the Founder Secretary of the Karnataka Chitrakala Parishath.
An artist and visionary, Prof. Rao strived to build the Parishath with its four goals of Art Education; Art Collection and Exhibition; Publication and Restoration. He began an art school which later took the form of the celebrated College of Fine Arts, under which thousands of artists have graduated. He was the foremost to introduce the Bachelor's, Master's, and Ph. D programs in visual art in Karnataka.
His perseverance to see the Institute as one of India's greatest collections for the fine arts is a journey worth noting. The extensive collection from across the state of Karnataka by Prof. Rao and his senior students built towards an effort in bringing the Traditional Mysore paintings and Leather puppets. Along with a gallery dedicated to a collection of folk arts, he strived for national and international recognition as well. His association with Russian artist Dr. Svetsolav Roerich played a great role in procuring a collection of exquisite paintings by Dr. Svetsolav Roerich and his father Nicholas Roerich, which are now showcased at the Parishath's museum galleries. Rao's contribution to the collection of national and international contemporary art is enormous with museum galleries dedicated to exhibiting the H. K. Kejriwal collections, Dr. Dayananda Pai collections, and the works of the renowned artist Krishna Reddy.
Prof. Rao had a great interest for publications; he encouraged writers and art historians like Prof. S.K. Ramachandra Rao, Dr. S.R. Rao, Dr. Sivaramamurti, Mel Helstin, Dr. B.V.K. Shastry, Sri. S.N. Chandrashekar, Sri. K.V. Subramanyam, to bring books on the collections of Mysore Traditional Painting, Leather Puppets, Roerich's collections etc. His concern to restore art lead him to make space for a conservation institute in the premises of the Parishath.
Established in 1960, Prof Rao envisioned Karnataka Chitrakala Parishath as an art networking hub, where a space was created for students, artists, collectors, and connoisseurs to interact. Activities like art camps, conferences, and seminars brought artists and scholars to showcase their work and begin a dialogue for exchanging ideas and views on visual representations.
Karnataka's celebrated artists Sri. S. N. Swamy, Sri. Tippeswami, Sri. S.S. Kukke and Sri. K.K. Hebbar were close associates of Prof. Rao, along with many artists from outside the state. To mention a few were the renowned artists like Sri. Sankho Chaudhuri, Dr. Krishna Reddy, Prof. Ajit Chakraborty, Sri. Surya Prakash, Sri. Laxma Goud, Sri. Janaki Ram, Sri. R.B. Bhaskaran and Sri. Kannai Kunni Raman.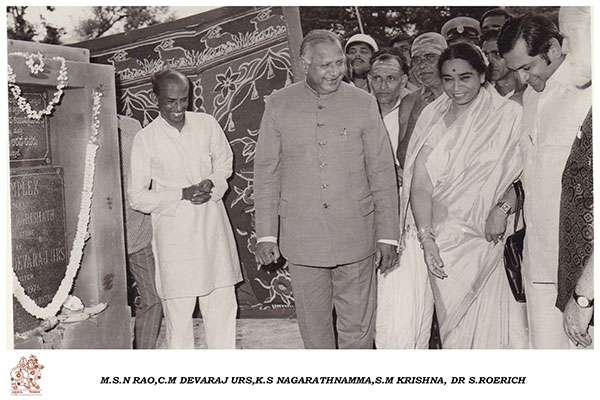 Politically acclaimed personalities like Sri. Devraj Urs, Sri. Ramakrishna Hegde, Sri H. D. Deve Gowda, Sri. S. M. Krishna, followed by Sri. Vaikunta Baliga, Smt. K.S. Nagarathnamma, Dr. Sudha V. Reddy, Dr. Jeevraj Alva, and all the chief ministers of Karnataka thereon have offered their unconditional support to M. S. Nanjunda Rao for the development of the Parishath. Prof. Rao's appeal to patrons and donors like Sri. H. K. Kejrival and Smt. Kiran Mujumdar Shaw has earned the organization a widespread appreciation.
The former Honorable Prime Ministers like Sri. Chandra Shekhar Singh, Sri. Atal Bihari Vajpayee, Sri. I. K. Gujral, Sri. H. D. Deve Gowda, followed by prominent leaders and Ministers like Sri. Murli Manohar Joshi, Sri. Neelam Sanjeeva Reddy, Smt. Maneka Gandhi, Sri. Karan Singh, Sri Kengal Hanumanthaiah, Sri. Ananth Kumar etc. have visited Karnataka Chitrakala Parishath and expressed their delight for the place.
Universally acclaimed and appreciated, Karnataka Chitrakala Parishath has made an unmatched niche for itself with global standards for an art institution.
To commemorate the maestro's brilliance and contribution to the field of fine arts, a series of events are organised at Karnataka Chitrakala Parishath to celebrate his 90 th birth anniversary through the year 2021 – 22 as 'M S Nanjunda Rao 90'. To mark a beginning, a show of paintings 'M S Nanjunda Rao 90' from his collections will be inaugurated on the 5th of July 2021 at 12 noon at the Karnataka Chitrakala Parishath.